Millimetron Space-Ground VLBI receivers will be used for Very Long Baseline Interferometry observations between Millimetron and ground stations such as ALMA, NOEMA, EHT network, KVN network and so on. Observations will utilize both Lagrange L2 point as well as elliptical near-Earth orbit (see orbit section). For efficient operations, VLBI instruments will be split into frequency bands, matching those of ALMA and other ground based stations. For multi-frequency operations capability, all VLBI bands will be quasi-optically combined using the set of dichroic filters and will receive signal from the same direction on the sky. Simultaneous operation of several or all receivers will be possible. Receivers in band 1, 2 will be based on cryogenic HEMT amplifier technology, while band 3-4 will utilize superconductor isolator superconductor technology. The maximum digitized IF bandwidth is 4 GHz for single frequency operation, which can be selected anywhere within the IF band. Main parameters of the Space-VLBI receiver bands are shown in the table below:
Band 

Frequency
(GHz)

 IF band (GHz)


 Instantaneous
bandwidth
(GHz)


 Polarization


 Tnoise  (K)
SSB

 Comments 

1

33 − 50

ALMA Band 1

4-12

(НЕМТ)

4 (max)

Circular

< 17

Post cryo capable

2*

84 − 116

ALMA Band 3

4-12

(НЕМТ)

4 (max)

Circular

< 37

Post cryo capable

3*

211 − 275

ALMA Band 6

4-12

(SIS)

4 (max)

Circular

< 45

Dedicated SIS receiver

4*

275 - 373

ALMA Band 7

4-12

(SIS)

4 (max)

Circular

< 60

Dedicated SIS receiver

5

490-650

HIFI band 1

4-12

(SIS)

4 (max)

Circular

< 120

Dedicated SIS receiver
* Receiver bands in red color are the highest priority receiver bands. Implementation of other bands depends on the science priorities, discussed in Space-VLBI science working group.
Receiver will utilize the following structural diagram shown for the three high priority bands: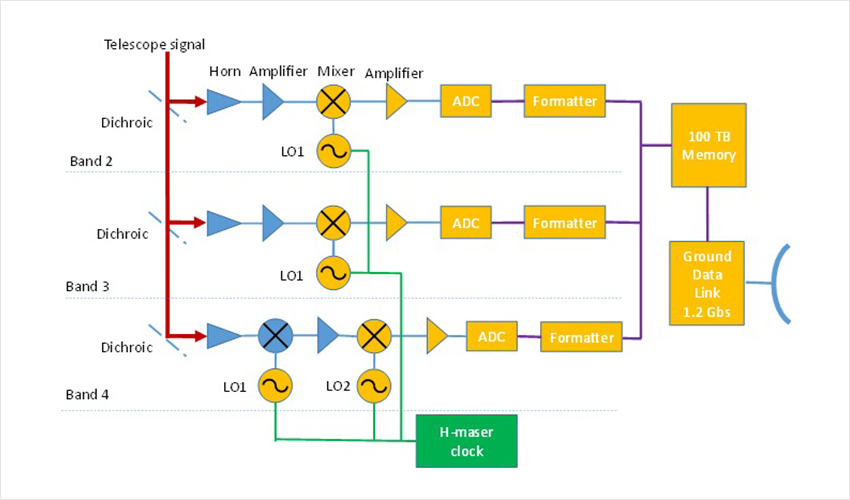 Time synchronization for the system is based on active on-board hydrogen maser clock, which is used to synchronize all local oscillators and ADC clocks of VLBI receivers. The digitized signal will be formatted and recorded into on-board memory. When observations are finished data will be sent to the ground using ground data link.